Massachusetts serving NE Chapter: Bobcat Armada 2017
Date:
Saturday, August 26, 2017
Time:
11:00 AM - 10:00 PM
Location: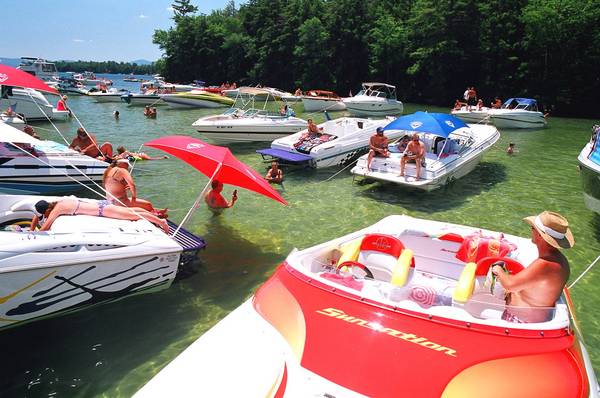 Join the OHIO fleet for a day of fun (and hopefully, sun) at Lake Winnipesaukee on Saturday, August 26, 2017. Bring your boat, or hitch a ride with other guests for the Bobcat Armada! Landlubbers also welcome for evening events. We plan to start at Braun Bay for on-the-water fun at this popular sandbar. Then we head to the NASWA Resort for appetizers and drinks at the 5th annual Buccaneer Bash Weekend. We will gather at the home of Mary and Ken Hettinger, leadership within the Massachusetts serving NE Chapter, for dinner, dessert, drinks and fire pit action. Adult registration: $28; children aged 15-and-under: $15. Feel free to participate in all, or any part, of the events. Be sure to include all events you plan to join when registering! All family and friends are welcome!

For those planning to spend the weekend in the area, please visit the Lakes Region Chamber of Commerce website for information on lodging and other fun activities in the area.

Armada Schedule:

11:00 AM - 3:00 PM - Braun Bay (accessible only by boat; bring yours or sign up to hitch a ride)

4:00 PM – 6:000 PM - NASWA Resort for the Buccaneer Bash - 1086 Weirs Blvd., Laconia, NH

7:00 PM - 10:00 PM - Hettinger's Lake House - 45 Patrician Shores Circle, Meredith, NH

Event Details

Braun Bay - Our journey begins in one of the hot spots of Lake Winnipesaukee. Look for the Ohio University flag, pick up your eye patch and enjoy some fun in the sun on this popular sandbar. The water is warm and shallow. Bring your water toys, lunch and drink, and just relax and enjoy the party vibe! Braun Bay is accessible by boat only. Indicate when registering if you have a boat and would be willing to take some Bobcats onboard, or if you're a Bobcat looking to hitch a ride. We'll pair you up in advance!

Buccaneer Bash (NASWA Resort) – Join us at the NASWA – by boat or car – for the resort's annual pirate-themed event, featuring an assortment of kids' and adults' festivities during our second stop of the day. You may order food and beverage on your own at this stop.

Hettinger's Lake House – A simple pirates' feast – dinner and the best grog around -- awaits you at Ken and Mary's home in Meredith. We'll conclude the day with dessert around the fire pit, as we share some pirates' lore (and more grog). Please take this opportunity to get to know your fellow New England Bobcats!

PLEASE NOTE: After registering you will receive an email from Ryan Boyd in the OHIO Alumni Association with a liability waiver form. Please sign and then submit to Ryan at boydr3@ohio.edu prior to joining the Armada.